AR20P - Personal rebroadcast set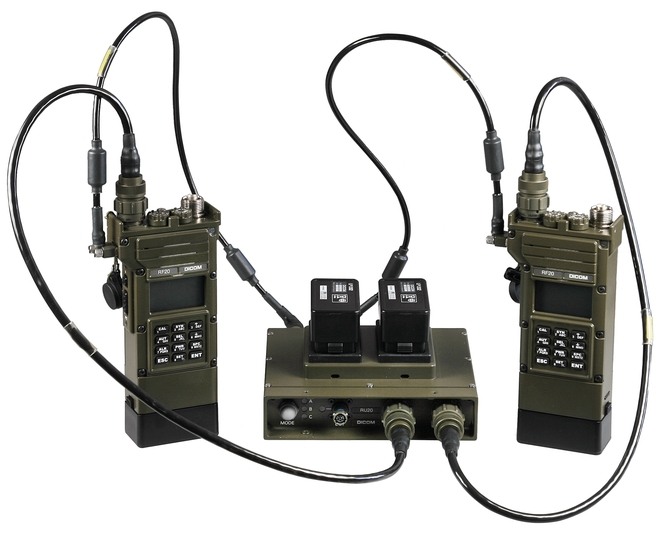 The AR20P personal rebroadcast set is a device allowing automatic rebroadcasting in fixed frequency operation modes of transceivers complying with the requirements of the STANAG 4204 standard and of transceivers communicating in frequency hopping modes using HW20 modulation, i.e. RF23, RF20, RF2050.
• portable rebroadcast station
• suitable for difficult, rugged terrain
• extends communication range of RF20 system handheld transceivers up to 20 km (designed especially for observers)
• automatic rebroadcasting of operation at fixed frequencies (STANAG 4204) as well as all RF20 system transceivers operation at fixed frequencies across the 30 MHz to 88 MHz band.
• automatic rebroadcasting of RF20 system frequency hopping operations
• all necessary equipment in two bags
To increase operation time LP20 battery packs are available.
| | |
| --- | --- |
| Frequency range | 30 MHz to 88 MHz |
| Transmitter power | 5 W |
| Sensitivity | min. 113 dBm |
| RU20 operating time (from LP1302) | 50 hours (except RF20) |
| Dimensions | |
| – bag with components | 295 mm x 300 mm x 350 mm |
| – antenna mast bag | 1400 mm x 200 mm x 200 mm |
| Weight | |
| – bag with components | max. 10.5 kg |
| – antenna mast bag | max. 8.9 kg |
| Operating temperature range | -40 °C to +70 °C |
| Mechanical and climatic resistance | MIL-STD-810E |
| | |
| --- | --- |
| RU20 operating instructions | 2315.010.12 |
| RF20 operating instructions | 2300.010.12 |
| RF20 short operating instructions | 2300.011.12 |