MESIT in Mexico on the air exhibition FAMEX 2019
2. 5. 2019
In days 24 to 27 April 2019, at the military air base of Santa Lucia in Mexico, the third international trade fair FAMEX (Féria Aerospacial México) was held. At the Czech stand, the exhibition was opened with the participation of the Ambassador of the Czech Republic, Chief of General Staff of the Mexican Air Force and other senior officials of the Mexican Army and Navy. The reception was organized by the Czech Embassy in Mexico and the CzechTrade Foreign Office in Mexico.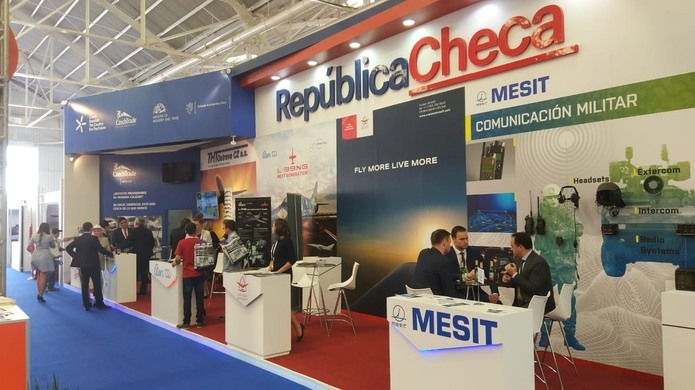 MESIT took part in FAMEX for the first time this year and he presented his aviation systems development skills, such as fuel measurement, de-icing, aircraft engine control units, etc. In the field of tactical communication systems, he introduced radio systems, intercoms and headsets. The stand was visited by a number of visitors and business partners from the land, air and sea forces and also professional public. Participation in the Mexican Fair is also interesting with regard to the overlap of presentation in South America.
FAMEX is organized by the Mexican Ministry of Defense and is one of the largest trade fairs in Latin America, together with FIDAE, which was also attended by MESIT. FAMEX is focused on civil and military aviation, space industry and security and defense sector. This year FAMEX was attended by 580 exhibitors and 250,000 visitors. The opening ceremony was attended by the Mexican president, representatives of the federal and local governments, foreign commanders of the air force and many representatives of foreign states.
We would like to thank the foreign office of CzechTrade for the excellent organization of the joint Czech exhibition and for the exceptional support of our promotional and business activities!