The same quality utilised for aerospace and military deliveries is applied in other sectors as well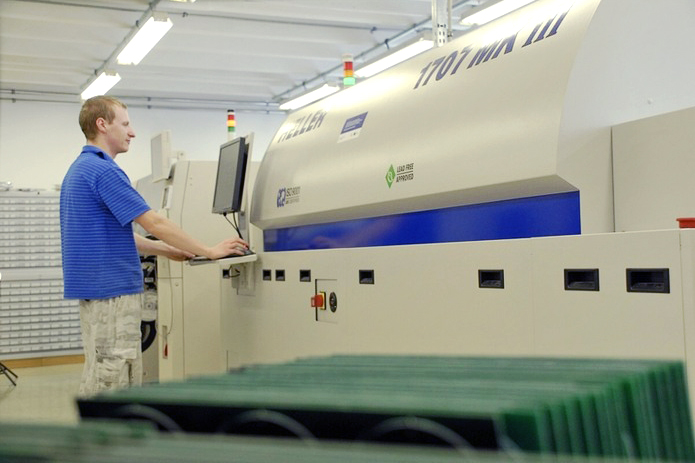 Assembly, placement, debugging, testing and installation of electronics according to specifications
Our customers are able to use all our strengths for their products.
Advanced manufacturing equipment
Software for manufacturing process control
Highly qualified workers
Many years of experience
Quality control and standards compliance
Fast order processing
Precise and reliable solutions
Automated PCB assembly
Modern technology, precision and speed
PCB component placement is performed on a modern automated line with high precision, speed and automated optical inspection.
Non-contact application of solder paste utilising MYDATA MY500
Solder paste or adhesive application without a stencil
High speed of up to 30,000 components per hour (IPC9850)
Automated component placement by SAMSUNG SM421
Placement speed of 21,000 components per hour (as per IPC9850)
Precise placement head with an accuracy of ± 0.05mm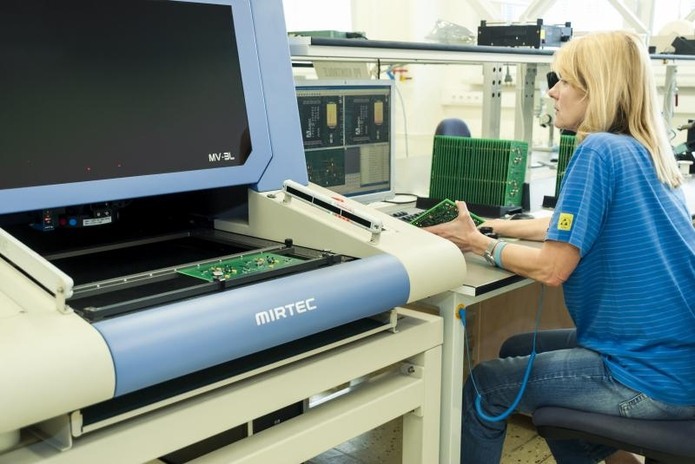 HELLER 1707 MKIII oven for reflowing
It contains 7 heated zones with adjustable temperature of up to 350°C and 1 cooling zone.
The oven is also suitable for lead-free soldering
Fully automated soldering process
Automated optical inspection performed by MIRTEC MV-3 inspection equipment
It also provides data for statistical process control (SPC).
Inspection speed of 32cm2/s
Basic parameters for component placement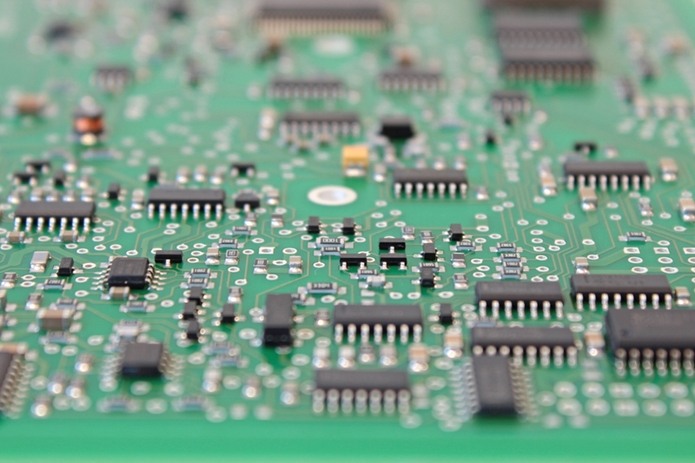 Placement deviation as low as ± 0.03mm
PCB dimensions ranging from 85 x 50mm to 400 x 330mm, with a thickness of 0.5 to 3mm
Component placement packages ranging from 0201 (0.6 x 0.3mm) to QFP, BGA with a 40mm long edge
Accuracy of placement for chip components ± 0.05mm, for fine pitch components ± 0.03mm
SnPb solder based and lead-free soldering technology
Application of no-clean solder pastes based on SnPb, SnPbAg, SnAgCu
Standard electronics assembly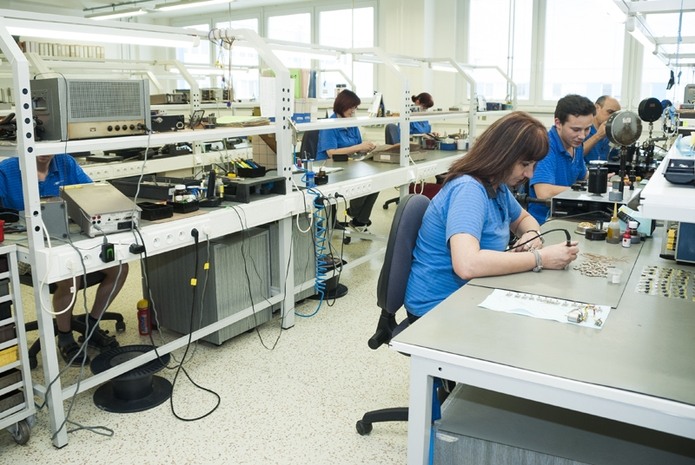 Employee experience and production process control software
Apart from the automatic component placement line, we also have technical and human resources for the standard assembly of electronics. Our workers are experienced in THT assembly and mounting of electronic sub-assemblies; all production sites meet ESD requirements.
Furthermore, we perform debugging, testing and installation of products according to customer requirements. Final inspections are a matter of course. Before shipping products, we ensure first-rate packing for the safe delivery of your shipment.
Requirements for contract implementation
Data file for creation of paste printing software for PROTEL, ALTIUM (ASCII format), or a GERBER file for soldering layer
Printed circuit board assembly drawing DWG, JPG, BMP, PDF, PS
Text file with components' coordinates
List of components
Any special requirements for the component supplier, including ESD requirements
The PCB should be designed for automated component placement (line-up points, technological environment)